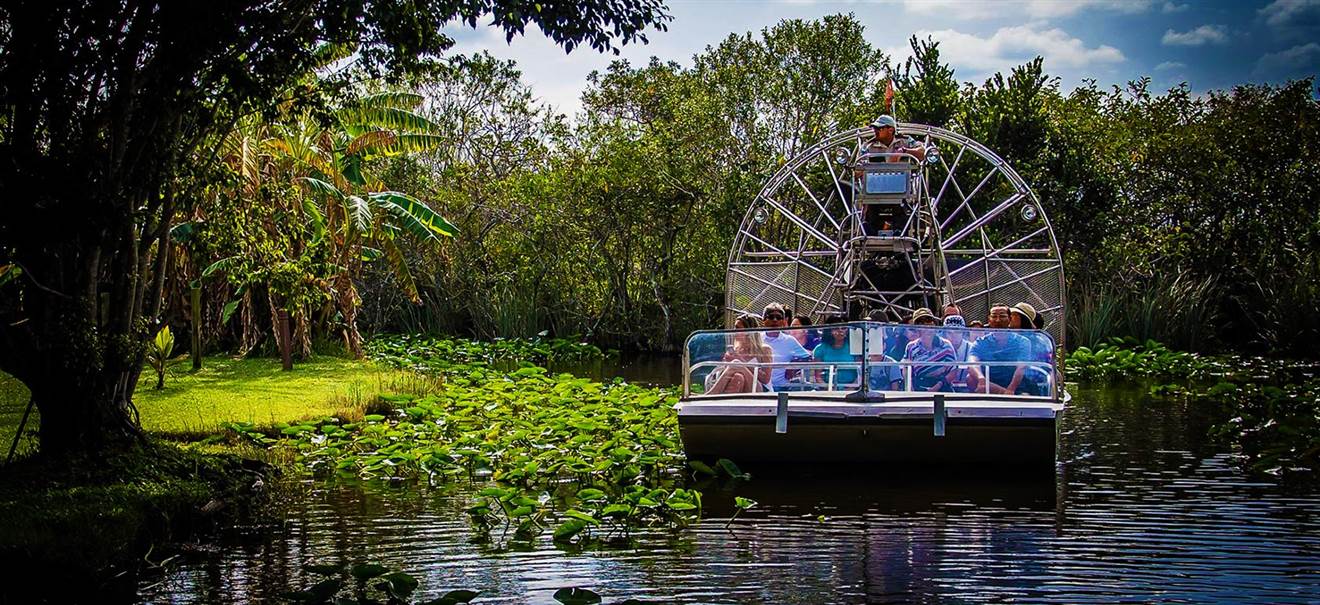 Everglades - Sawgrass Recreation Park
To product
Start this adventure with a 30 minute air-boat ride in the Florida Everglades. Your tour will be guided by experienced captains who have received extensive training. During the tour, you'll listen to the tales of how the Seminole and panther once coexisted in this lush wilderness.
Also, you'll catch a glimpse of endangered wildlife as you skim across the glassy waters. Feel free to let your spirit soar as you view nature at its finest.
Your adventure will include a visit to the Exotic Wildlife exhibit. A separate organization brings a variety of animals to the park each day to visit.
Exotic Wildlife exhibit: They strive to educate and enlighten the public about endangered species like the Florida Panther, leopards, wolves, and even some smaller mammals each day.
Take a walk on the wild side, back in time, with an original dinosaur, the Florida Alligator. The reptile exhibit features dozens of species both native and exotic to Florida.
Along with the friendly turtles and iguanas, you can learn about Cannibal, the 1,000 pound alligator. The handlers are happy to demonstrate how these animals live and survive in the wild.
There is also a variety of monitors and rescued exotic snakes.
Please note that the variety of animals on display may change from day to day and there is no guarantee of specific animals at any time.
Highlights
• 30-minute air-boat ride discovering the lush wildlife
• Learn about the Seminole Tribe
• Enjoy the Exotic Wildlife Exhibit
• Hold a baby alligator
Inclusions
• Exhibit entrance
• Ear protection
• Reptiles, exotic wildlife and "Swamp" yard exhibits
• Local taxes
• Parking
Departure point: 
Sawgrass Recreation Park
1006 N. U.S. Highway 27. Weston, FL, 33327